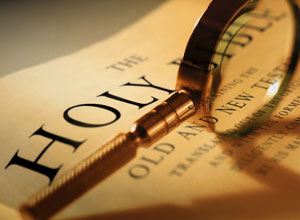 The crowd stared in disbelief, "What is this man thinking? Has he lost his mind?", they wondered. "Isn't it bad enough that he's been associating with prostitutes, never mind out-and-out drunks? Doesn't he realize that his reputation was on the line? Doesn't he know he could completely lose his ministry? In spite of this, there he was talking with another heathen, a filthy, sickly one at that. He really ought to back away, he's seriously pushing the boundaries on how close he's standing. What is this reckless man doing now?! He's reaching…He's touching…He's unclean! What a careless way to handle sanctification; a gesture like he just made is utterly contaminating. But, wait…the leper is healed!" And he put forth his hand, and touched him, saying, I will: be thou clean. And immediately the leprosy departed from him. –Luke 5:13
Who is this radical healer so willing to challenge the status quo on separation and cleanliness? He is Jesus; the epitome of holiness. And, what is holiness? "The believer being progressively transformed by the Lord into His likeness" (https://biblehub.com/greek/38.htm). Jesus Christ was the walking, breathing, human form of perfected holiness. He is our example, we are to look more and more like Him the more we mature. However, the scripture hardly tell us anything about how he looked as far as outward appearance, instead, they dive into chapters upon chapters, books and more books, about how he lived, loved, walked, and talked.
But as he which hath called you is holy, so be ye holy in all manner of conversation; Because it is written, Be ye holy; for I am holy. –1 Peter 1:15–16
Jesus' priorities were all upside down and backwards from the culture of his day. He loved the least of these; the lepers, the drunks, the blind, the lame, the children, the elderly, the weak, the prisoners, the strangers, the broken. He began his ministry with the following reading,
The Spirit of the Lord is upon me, because he hath anointed me to preach the gospel to the poor; he hath sent me to heal the brokenhearted, to preach deliverance to the captives, and recovering of sight to the blind, to set at liberty them that are bruised, To preach the acceptable year of the Lord. –Luke 4:18–19
This was Jesus. He didn't care about keeping an unquestioned status, or even a pristine reputation among the religious elite. He cared about seeking the lost, loving the least, and saving the world.
This doesn't infer that the Lord was ever careless when it came to actual sins. He never once sinned. He was always truthful, always humble, always kind, always pure, always chaste.
This is the holiness Christians must pursue; the holiness of Christ. The separation which is grounded in a rock-solid determination to live according to the biblical commandments, the set-apartness which flows from fountains of inner peace, joy and hope, the radical difference made by the love of Christ pouring through their hands and feet-love in deed and truth. This is the holiness that gets men nailed to crosses; this is the holiness that turns the world upside down.
Berean Holiness website is an attempt to push the Church back towards the direction of Christ-like holiness, a holiness which is not grounded in rules, but rather grounded in relationship. Authentic holiness will never be constrained to "my four and no more", neither will it be contained in four walls of a church house. It is not self-focused, it cannot be. Holiness entails becoming like God, whose very essence is love. It is impossible for that same caliber of love which kept Christ on the cross to not go and serve the ones for which He died.
I, Natalie Mayo, have Christian friends in over a dozen nations, over a dozen states, over a dozen denominational backgrounds, and have studied over a dozen centuries of church history. I know enough to know that a group of Christians who are as adamantly dedicated and proudly identified by what they believe as the Pentecostal Holiness Movement is a rare and beautiful sight. However, beliefs are only as valuable as they are true, and while the great bulk of Holiness Doctrine is grounded in the historic essentials of the Christian tradition, there seem to be some areas which have embellished the biblical teachings.
As Christians, it is absolutely necessary to have an extreme regard for scripture; so high, that we are willing to scrutinize everything we teach and have been taught under the bright light of biblical study and logic. Anyone who is not afraid of truth and scripture, has no need to fear this site because, just like the ancient Bereans, the the pursuit of biblical truth is exactly what we're all about (Acts 17:11).
The heart of this website is to encourage Holiness and non-Holiness Christians alike to study the Word deeply, to better understand the majors and minors of scripture, to be able to discern a personal conviction from an essential doctrine, to confidently identify the Christians they may unify with, to be better equipped to teach scripture proportionally and accurately, to develop a healthy understanding of perfection and the personal applications of holiness, to cultivate a deeper, richer relationship with Christ, and to be motivated to mature into His likeness that they may overflow with His pure, blameless, love and be His hands and feet to their world.
Happy studying!
The Bereans…were more noble than those in Thessalonica, in that they received the word with all readiness of mind, and searched the scriptures daily, whether those things were so. -Acts 17:11